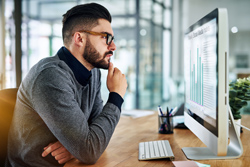 If you are working remotely, travelling on business or need headspace, book a hotdesk by the day, week or month..
When you want the facilities and space of an office – but only need it for occasional use hot desking is the way to go.
You'll only pay for the space you use, with no commitment to the financial investment of permanent office space. Therefore you have access to a work-ready office space that meets your business needs including the availability of conference and meeting rooms to utilise at your convenience.
All of our hot desks are provided with everything set up and ready to use immediately: telephones, computers, internet and a comfortable workspace. We'll also make sure that there's a dedicated team to support you with administration and general office management.
So if you would like to find out more information, please get in touch and you can be up and running in no time.